Recently, a few of my Log Insight instances displayed the message, "Log Insight is not properly licensed." Given that other people may have experienced this message, I would like to discuss what it means, why it happens, and how you can fix it.

Where would you see this message?
On the Dashboards page within any chart widget (not within query list widgets):



On the Interactive Analytics page: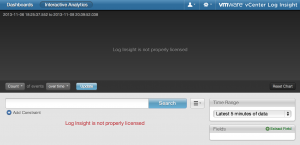 What does this message mean?
This message indicates that the Log Insight license that is set is invalid. More specifically, this message typically indicates that the license has expired. To validate, go to the Administration page and select License. When I did so, I saw the following (I removed the license before taking the screenshot and thus it is blank):


What does error mean on the License page?
Well, turns out as of the current version of Log Insight, 1.5 TP3, when a license expires the result is the UI stating there is an error.
How do you confirm the error on the License page is because of an expired license?
The easiest way is to get a new license key and apply it. If the error goes away then you have found your issue!
The other way is to deploy the different versions of Log Insight and see what the expiration date is listed as. The temporary licenses for the last two TP releases expire:
1.5 TP2 = October 31, 2013
1.5 TP3 = January 31, 2013
What is the impact of having an expired license?
If Log Insight is not licensed properly then you are not allowed to run any queries. This includes anything on the Dashboards or Interactive Analytics pages. This also means that user-defined alerts will not be run or triggered as they are backed by a query.
While you are not allowed to run any queries in this state, ingestion of new events continues as expected. In addition, archiving continues to function and system notifications will be sent if triggered.
© 2013 – 2021, Steve Flanders. All rights reserved.