VMware announced Log Insight 2.0 today though the actual bits will not be available until later in Q2 2014. Read on for all the details.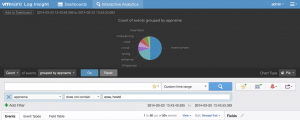 For those of you who are trying out the 2.0 beta the focus should come as no surprise:
Performance

General, but significant speed improvements including 30% improved ingestion performance per node
Scale-out up to 6-nodes with a single management pane

Windows

Log Insight Windows agent
Log Insight ingestion API (not technically Windows specific, but used by the Windows agent)
Windows content packs on the way (OS, AD, and Exchange)

Machine Learning

Message pattern detection
Reducing troubleshooting and root cause analysis time
Hidden a little deeper in the messaging are a few additions introduced since the 2.0 beta including:
CPU pricing ($1,500 per CPU) in addition to OSI licensing ($200 per OSI or $5,000 per 25-pack)
New data visualizations (i.e. charts)
UI improvements (e.g. styling)
Some awesome quotes that can be found in the announcements include:
"Today, VMware vCenter Log Insight helps customers to identify IT issues 25 percent faster, speed resolution times by 50 percent, and reduce log analysis time by up to 80 percent."
"vCenter Log Insight – for 6x greater speed, 8x faster big data ingest, a Windows agent and machine learning-based predictive analytics."
"vCenter Log Insight 2.0 marks our third substantial product release in the 10 months the software has been available in the market."
For all the official information, be sure to check out the following links:
Press Release
VMware Corporate Blog by Sajai
© 2014, Steve Flanders. All rights reserved.