I am an avid Macbook Pro and Android smartphone user. The combination influences the applications that I use. I figured I would share the applications I use most to possibly influence others, see what suggestions others have and to also see how my application landscape changes from year to year. So, what applications do you use?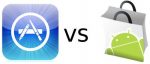 Apple
Caffeine – screen keep-alive
Chrome (primary browser)
Dropbox
Firefox (secondary browser)
GIMP – not my favorite app, but gets the job done
iTerm – SSH client
Little Snitch – not free, but worth the money
MacPorts – apt-get like package management tool
Microsoft Office, Remote Desktop
Omnigraffle – Visio like tool – not free, but worth the money
Skype – minimal usage currently
Slack
TextEdit – native, attempting to switch to Wunderlist
Time Machine – native
VMware Fusion
Wunderlist – task management
Some applications that I do not use:
Calendar – native – way too many bugs
Fantastical – Calendar replacement – way too many bugs
Mail – native – way too many bugs
Safari – does not work with my VPN client, not enough extensions
Android
Communication: Google Hangout, Skype, Slack
Entertainment: Pandora, YouTube (native)
News: Flipboard, Google Play Newstand (native), Pocket
Organization: Calendar (native), Dropbox, Google Inbox, Nine (not free), Wunderlist
Social: Facebook, Google+, LinkedIn, Socialcast, Twitter
Travel: Google Maps, Marriott, Starbucks, United Airlines, Yelp
Work: RSA SecurID, WebEx
Other: Aviate, Chrome, Clock (native), Flashlight, Night Mode, WODBook
Chrome
AdBlock
Chrome Remote Desktop
Cisco WebEx Extension
Firebug Lite
Gmelius for Google
Google Redesigned
Hangouts
LastPass
Personal Blocklist
Sexy Undo Close Tab
TooManyTabs
© 2014 – 2021, Steve Flanders. All rights reserved.