One of the final sections in the web UI I would like to cover is the Content Packs section. Content packs provide a powerful way to extend Log Insight through pre-defined knowledge about particular events. I would like to cover the content packs section specifically in this article and more broadly cover content packs in a future post.

Content Packs
To get to the Content Packs section, select the gear icon in the navigation bar and select Content Packs.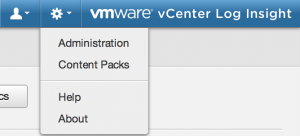 NOTE: The Administration option is only visible to Admin users. Normal users can view and make changes to the Content Packs section.
Viewing
To view what is currently saved in a Dashboard, select the Dashboard name.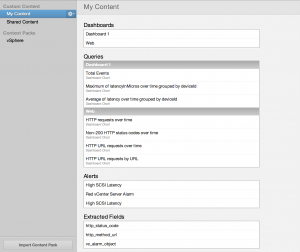 You will notice that a content pack is made up of various components. These components can include:
Dashboards – the dashboard groups (i.e. pages) that make up the selected dashboard
Queries

Chart widgets
Saved queries – located under Saved Searches

Alerts – remember always disabled when exported
Fields – labeled as Extracted Fields
Exporting
To export all information saved in a dashboard, select the dashboard and then select the gear icon to the right of the dashboard name. Next, select the Export Content Pack… link.



Finally, give the content pack a name and select Export.

Once done, a file will be downloaded to your computer. The file ends in VLCP, which stands for Vcenter Log insight Content Pack.
Importing
To import a content pack, select the Import Content Pack link in the bottom of the left navigation bar on the Content Packs page. Specify the location of the VLCP file and select Import.



When importing a content pack, it is important to note that some warning/error events can occur. These include:
Duplicate Name – this is the most common warning message. This message means that another content pack is installed in the system that has the same unique identifier. In this case you can either choose to Overwrite the existing content pack or Cancel to keep the existing content pack.

Invalid Format – this typically means that the VLCP file was manually edited and contains one or more syntax errors. The syntax errors need to be fixed before the content pack can be imported. As VLCP files should not be manually edited, there is no easy way to locate and fix syntax errors.

© 2013 – 2021, Steve Flanders. All rights reserved.