As you should know, the vSphere fat client (Windows-based) is going away. As such, you should be using the vSphere web client whenever possible. Unfortunately, even in vSphere 5.5, I run into issues with the web client. One recently was passing the CTRL character through a console session.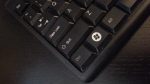 I primarily use a Mac computer and the Chrome web browser. With this combination, I launched the vSphere web client and opened a console session to a Linux VM. I needed the console as I was experiencing a network issue. On the console, I started a ping to the gateway that the VM was on. After confirming that ping was failing, I attempted to stop the ping by passing CTRL+c. Unfortunately, the key combination did not work.
I often run into keyboard combination issues on a Mac. As an example, see this post. I tried every key combination I could think of and I was unable to get the CTRL key to pass. After some digging, I learned that the Flash RDP component used by the vSphere web client is at fault. Turns out this issue impacts Mac on Safari and Chrome. The workaround is to use Firefox instead. Upon switching to Firefox I confirmed that I could pass the CTRL character as expected.
So why hasn't VMware fixed this issue? The Flash RDP component is owned and licensed by Oracle and VMware cannot fix it.
© 2014 – 2021, Steve Flanders. All rights reserved.