The wait is over, Log Insight 2.0 is now generally available! This post contains all the details you need to know.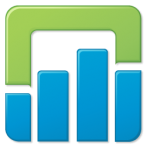 RTFRN
While I would recommend checking out the updated Log Insight 2.0 documentation (RTFM) as it has been significantly revamped for 2.0, I understand that finding the time may be challenging. Of course, if you are curious how a new feature works, check the documentation!
I would highly recommend reading the release notes (RTFRN) in their entirety. Here are the major points you should come away with:
Log Insight 2.0 supports upgrading from Log Insight 1.5 GA or later only.
Log Insight 2.0 has dropped support for: vSphere integration with vSphere 4.x
Issue resolved in this release:


You are unable to login to Log Insight using your Active Directory credentials
Issues with Log Insight Active Directory integration prevented users were from logging in when one of these scenarios occurred for an AD user:
* User's SAM is different than their UPN prefix
* User's NetBIOS domain is different than the AD domain
* User's account uses an alternate UPN suffix
This problem is fixed.

Known issues in this release:


Log Insight cluster does not handle network or power outages when using DHCP
If you use DHCP to set up the network configuration of a Log Insight cluster and a network or power outage occurs, the cluster will stop operating. This happens because of the change of the IP addresses of the master and worker nodes.
Workaround: Always configure the master node with a fully qualified domain name (FQDN) or a static IP address. If the master experiences an outage while a worker node continues to operate, the worker node will send out an alert to the administrator of the cluster.
Content packs might not be fully backwards compatible
Content packs created with a newer version of Log Insight might have new functionality that will be ignored in older versions of Log Insight. For example:
* All new metadata added to a content pack, such as author, website, icon, and notes, will not be shown in Log Insight 1.0.
* Any queries saved using the Save Current Query option will not be seen in Log Insight 1.0. If you want to save queries in a content pack that can be viewed in Log Insight 1.0, use the Add Current Query to Dashboard menu item, choose a Widget Type of "query" to add the query to a query list in a dashboard, similar to the Relevant Queries widget in the vSphere content pack.
* Unique count function queries will be ignored in Log Insight 1.0 as the unique count function did not exist in Log Insight 1.0.
What's New?
I already covered all the new features in the Log Insight 2.0 beta, but Log Insight 2.0 GA contains even more new features! I will be covering all the additional new features in detail in future posts, but wanted to highlight the changes here:
New logo
As shown above, Log Insight now has a logo!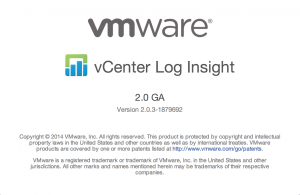 New styling
The UI has received some awesome styling improvements!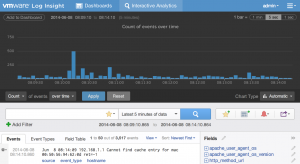 New visualizations
More visualizations have been added making it easier to analyze data!


Updated vSphere content pack
The vSphere content pack makes troubleshooting and auditing even easier!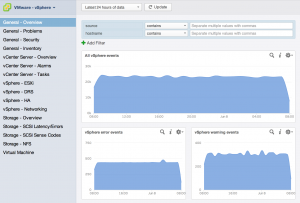 Query pause/resume
You now have the ability to pause/resume a running query making it even faster to analyze the data you care about!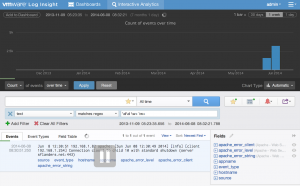 Agent configuration management
From the Log Insight UI, you can now configure all Log Insight Windows agents within an environment!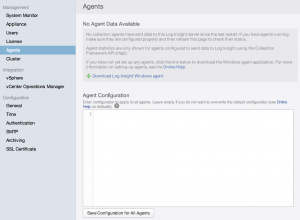 New licensing + information
Log Insight now also includes CPU-based licensing (covered here) in addition to OSI licensing and the updated license page makes it easy to tell if you are compliant or not!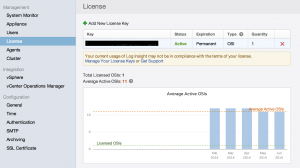 Upgrading
As mentioned above, Log Insight 2.0 supports upgrading from Log Insight 1.5 GA or later only. If you are running an older version of Log Insight then upgrade to Log Insight 1.5 first and then upgrade to Log Insight 2.0. For those of you who received access to a Log Insight 2.0 RC build, you will need to upgrade to the GA version. I will have an upgrade post later this week!
Download
That should be all you need to know, pretty easy right?! You can download the bits from here.
For more information see all the official information:
© 2014 – 2021, Steve Flanders. All rights reserved.