The title of this post may make it sound like upgrades are difficult in Log Insight, but actually, Log Insight is one of the easiest products to upgrade! From time to time you may experience an error and this post will explain what the errors mean, why they occur, and some best practices to prevent them from happening.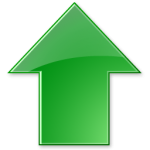 How to upgrade
Upgrading Log Insight is as simple as navigating to the Administration > Appliance page through the UI of the standalone/master Log Insight node and selecting Upload PAK…



Note that for cluster deployments after upgrading the master you need to navigate to the Administration > Cluster page through the UI of the master Log Insight node and for each worker select the maintenance mode button followed by the upgrade button.
Internal server error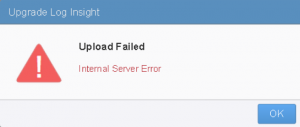 This error is typically seen when a timeout or disconnect happens between the client and the server. For example, if you are attempting to upgrade from a client on a WAN from the server.
Best practice: Upgrade Log Insight from a client in a LAN.
Signature of the PAK file cannot be validated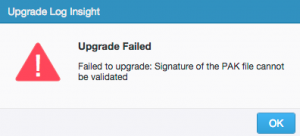 This error can be seen for a variety of reasons including:
The file uploaded is not a PAK file
The file uploaded (i.e. PAK) is not complete
The license on Log Insight has expired
The root filesystem on the Log Insight virtual appliance does not contain enough space
To resolve this issue, perform the following troubleshooting steps
Ensure you are uploading a PAK file
Verify the md5sum of the PAK file against the VMware download site
Verify at least one valid license is configured on Log Insight
Log into the virtual appliance, run df -h and confirm you have enough free space
Best practices:

Always verify the md5sum of any downloaded file from VMware
Never put files on the Log Insight virtual appliance root filesystem
Summary
As you can see, upgrading Log Insight is very straightforward. The errors and best practices explained in this post apply to all VMware products and not just Log Insight. Happy upgrading!
© 2014 – 2021, Steve Flanders. All rights reserved.