It is that time of the year again: Voting for the Top vBlogs of 2015! What is it? It is a survey asking you to select what you believe are the top 10 VMware and virtualization blogs. I would like to thank Eric Siebert for organizing the annual event and Infinio for sponsoring the survey in 2015.
Last year was the first year I requested my blog be entered. My focus for the last year has been around VMware management products and specifically Log Insight. I hope you have enjoyed and found value in the content and I would greatly appreciate your consideration during voting this year. There are a ton of quality blogs out there and over 1400 represented in this survey; I encourage you to look into as many as you can.
When voting, consider the following aspects:
Frequency (how often they post): I blog three times a week.
Quality (how well the posts are): I will let you decide 🙂
Length (how long the posts are): My in-depth technical posts are typically 800 word while most other posts are typically 300 words.
Longevity (how long they have been blogging for): I have been blogging since 2009 and my first post on SFlanders.net was in 2011. I have been blogging about Log Insight since it was first announced.
Note that the above considerations are suggestions. I would encourage you to vote for blogs that have been helpful to you over the past year. Please take the time to fill out the survey and thanks for your consideration: http://www.surveygizmo.com/s3/2032977/TopvBlog2015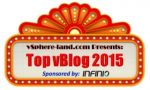 © 2015, Steve Flanders. All rights reserved.