While 95% of what you need to do on a Log Insight instance can be done from the UI, a few things, such as advanced configuration changes, required access to the CLI. In Log Insight 3.0 advanced configuration changes must now be done in a different way. Read on to learn more!
Examples
You might be wondering what types of advanced configuration changes I am referring to. One example is configuring specific Active Directory domain controllers for Log Insight to poll. While connecting to an Active Directory domain as well as adding user and groups can be done from the UI, specifying domain controllers can only be done from the CLI as of Log Insight 2.5. This example and others can be found on http://kb.vmware.com.
New in 3.0
In 3.0, using the CLI for advanced configuration changes IS NO LONGER SUPPORTED!! Instead, the UI must be used. To access the advanced configuration section within the UI you must have a role of View Admin (read-only) or Super Admin (read-write) and must manually specify a URL of https://<loginsight>/internal/config. Upon doing so you will see something similar to: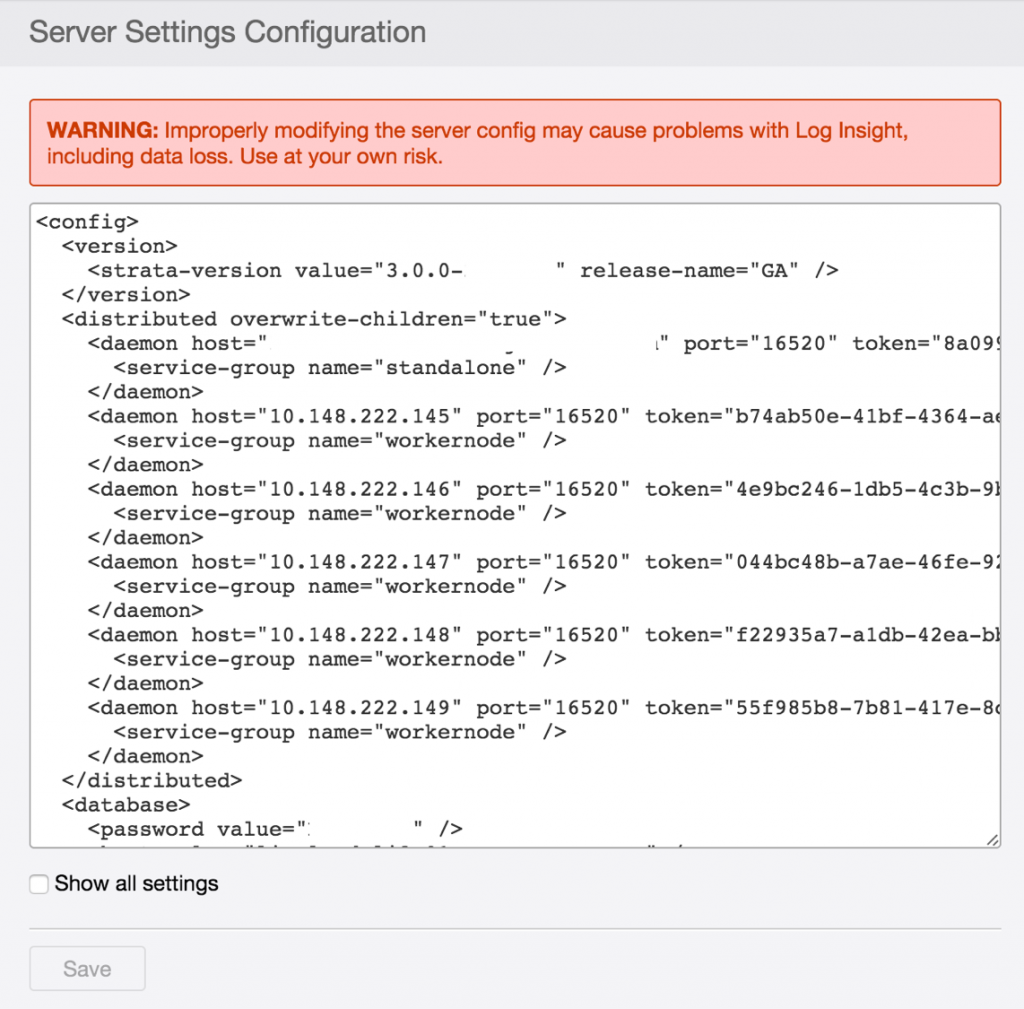 Now, you can simply add your desired advanced configuration — as specified in a KB article — within the text box and then select Save. Note that playing with these configuration options is NOT SUPPORTED UNLESS explicitly stated in a VMware KB article —  a very clear warning is listed at the top of the page.
Summary
In Log Insight 3.0, advanced configuration changes must be performed from the UI — CLI changes are not supported and may have undesired results.. Making advanced configuration changes requires a role of Super Admin and a manual URL of /internal/config. Advanced configuration changes are only supported when mentioned in official VMware sites such as KB articles.
Please note that all existing KB articles have been updated to reflect the changes required in Log Insight 3.0. If you already made changes via the UI in a version of Log Insight before 3.0 and then upgrade to 3.0 your changes will be preserved and you do not need to go the UI to make any additional changes.
© 2015, Steve Flanders. All rights reserved.