As mentioned in my last post, Log Insight 3.0 features agent groups. Agent groups are powerful, because they allow server-side configuration management of agent configuration. To better facilitate the use of agent groups, content packs have been enhanced in Log Insight 3.0 as well. Read on to learn more!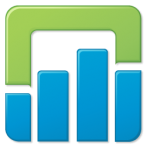 Marketplace
As you know, Log Insight has an in-product Marketplace where you can install free content packs. One potential problem with the marketplace is that installing the content pack may not be enough. What I mean is that events needed to forwarded to Log Insight and in some cases the Log Insight agent with a specific configuration is required. Now this information is readily available on Solution Exchange, however this requires leaving the product.
Directions
In Log Insight 3.0, content packs can now contain directions. If the content pack author included directions then upon installing or upgrading to the content pack you will be presented with a pop-up listing the directions. For example, when I install the Microsoft – Windows content pack I am now presented with: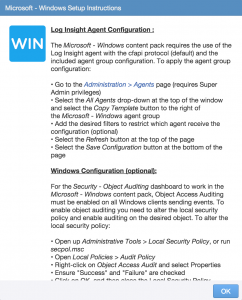 You can review the directions at any time by selecting the gear icon next to the content pack and choosing Directions. For example, on the vSphere content pack:


Agent Groups
In addition, Log Insight 3.0 content packs also support agent groups. This means content pack authors can add agent configuration directly within a content pack. Agent groups are only configurable by Super Admin users, however all users can view content pack agent groups. For example, as a User I see the following on the vSphere content pack: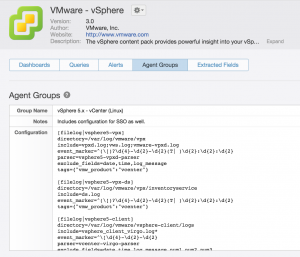 For content packs that require agent groups, like the Microsoft – Windows content pack, I can follow the process outlined below.
Install the content pack
Be presented with directions for making the content pack work, which includes configuring agent groups
Navigate to the Agent section of the Administration UI
Copy the agent group from the content pack:

Name the copied agent group (or keep the supplied values):

Add filters to restrict what agents will receive the configuration:

Select the Refresh button (note no Microsoft agents are reporting at this time):

Select Save Configuration:

Now I just need to ensure the agent is installed and configured to point back to the server
Wait for events to be generated and sent then the Dashboards will populate
Updated Content Pack
Several content packs have been updated or released with Log Insight 3.0 to take advantage of the new content pack enhancements including:
vSphere
Linux (NEW!)
Microsoft – Windows
Microsoft – Active Directory
Microsoft – Exchange
Microsoft – IIS
Microsoft – .NET
Microsoft – SharePoint
And you can expect all new or updated content packs released going forward to take advantage of these new enhancements.
Summary
Agent groups are extremely powerful and with them added to content packs now content packs are even more powerful. Agent groups combined with directions now provide you with everything you need to configure a content pack within product.
Do you leverage any content packs that require agent groups?
© 2015, Steve Flanders. All rights reserved.