My job requires that I travel. I am on a journey to get fit. These are often two conflicting statements. In this post, I would like to discuss the challenges I face when attempting to accomplish both and some of the steps I have taken to make things easier. Read on to learn more!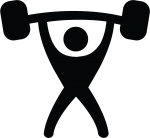 Challenges
When on travel, I strive to:
Pack light and avoid checking a bag
Make the most of the trip (typically means long days in the office)
Get more rest if possible (can be difficult at home)
In addition, I am invited to several social events that typically involve going out to eat. These activities are often in direct conflict with my fitness goals which involve:
A fair amount of equipment and supplements
At least 90 minutes to workout plus time to shower and get changed
Eating a diet that fits my macros
My Solutions
To overcome these challenges, I had to face them head-on. In terms of packing, I have limited my equipment to the following:
Workout shoes — often what I wear on the plane, so I do not have to pack them
Weightlifting belt — I use the Rogue 4″ Nylon as it is cheap and very portable
Jumprope — I am a fan of the Rogue SR-1
Knee sleeves — I wear the Rehband 7051
Hand care items — I recently bought the W.O.D. Welder Handcare Kit
Workout clothes — either enough for the entire trip or enough so I can do laundry on the trip
Of the above items, the shoes (if packed) and the clothes take up a lot of room; however, the supplements really consume space. For the powder supplements, I mix my own and store them in individual storage containers. Given I need two containers for workout days and one container for non-workout days, my supplements take up a lot of room. I am considering mixing and bagging my supplements so that I only need two bags of supplements instead of 10 or more containers, but I have not made the switch yet.
While it is a little hard to see in the picture below, my workout equipment takes up about half of my luggage for a two-week trip (I try not to check a bag for anything less than a week).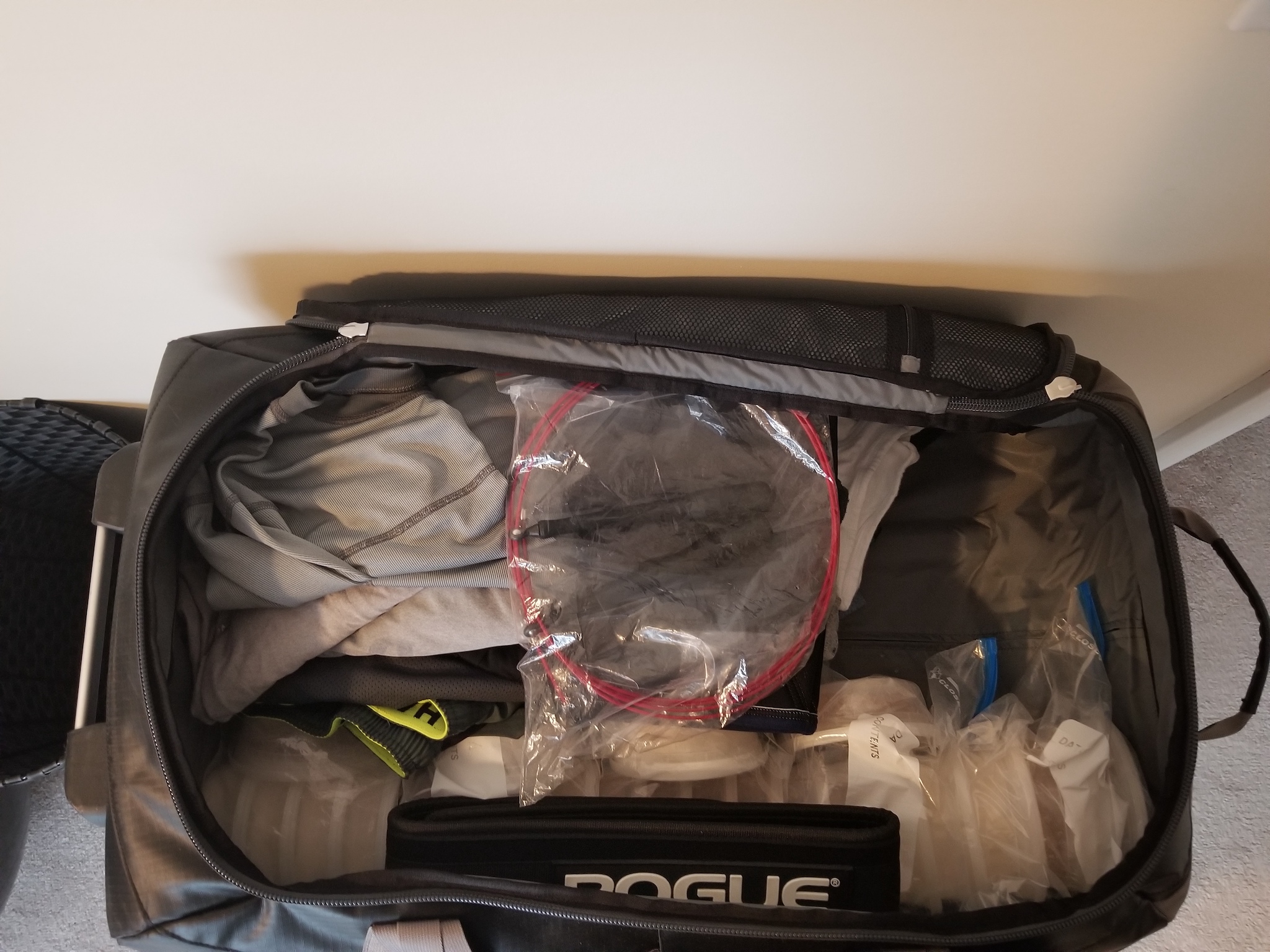 In terms of time, I look at my schedule and block out workout time. Given I live on the East Coast and travel to the West Coast, mornings usually work out well as I am awake anyway and do not often have meetings. For travel mornings or mornings, I do have meetings; I try to block off time in the evening (CrossFit classes usually go as late as 7 pm). Only on rare exception do I skip a gym day.
This leaves the diet. For breakfast and lunch, it is easier — assuming it is not a going-out lunch. Dinner becomes the issue. First, it depends on where we go to eat. Second, it depends on what is on the menu and the cost associated. Third, it depends on who is going. To be fair, I can often find meal options that fit my macros; it is more of a self-control thing to order that versus something else. Also, when others order drinks or appetizers, it can be tempting to indulge. In all honesty, I do not always make the best choices when going out, but I have made a conscious effort to be better.
© 2017 – 2021, Steve Flanders. All rights reserved.