Log Insight has the notion of content packs while vRealize Operations Manager has the notion of management packs. In this post, I will talk about the differences between the two.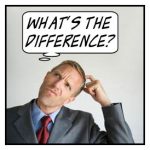 Format
A content pack is a VMware Log Insight Content Pack or VLCP file and consists of a JSON blob.
Important: The JSON blob should never be edited by hand as this may break the content pack!
A management pack is a PAK file which consists of XML, properties files and libraries (e.g. Java).
Software vs. Non-software
Given a content pack is a JSON file it is content and not software. As a result, no EULA needs to be accepted when installing a content pack. A management pack, on the other hand, does contain software and as a result contains a EULA.
Content
A content pack contains extracted fields, alerts, saved queries and dashboards necessary to display information about a specific subset of events within an environment. A management pack contains problems, symptoms, remediations and dashboards and/or plugins/integrations necessary to collect or accept data from other devices.
Why Do You Need Either?
Content is king. While both Log Insight and vRealize Operations Manager are powerful tools, users want to get immediate value out of the products. In addition, they may not know what they should be looking for. Both content packs and management packs provide content out of the box so users can focus on what is most important — monitoring.
Summary
While the way to analyze events in both products is slightly different, the concept of content packs and management packs are the same in that they provide the content necessary to perform analysis. The format of content packs are different from management packs, but the more important difference between the two is that management packs contain software in the form of plugins and integrations where content packs do not today. Both content packs and management packs are powerful additions to VMware's management products as they provide out of the box value making monitoring even easier.
© 2015, Steve Flanders. All rights reserved.