Time machine is a great piece of backup software that comes with Macs. How Time Machine works is that it backs up based on a policy until there is no space left on the destination. When space is depleted, Time Machine deletes the oldest backups. While the process makes sense, it does raise the question of how to backup multiple Macs to the same Synology device. I will cover the process in this post.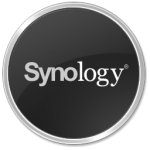 UPDATE: As of DSM 6.1 Synology now allows multiple shared folders to be used with time machine. This post applies to DSM 6.0 or older.
Background
One of the many features that Synology supports is Apple's Time Machine, which of course means that Mac File Service (AFS) is also supported. Once you create a folder, you can navigate to File Services, enable Mac file service and specify the Time Machine folder.
IMPORTANT: Synology supports a SINGLE Time Machine folder location — if you have multiple clients backing up to the same location this may seem problematic given that Time Machine uses ALL space available.
UPDATE: As of DSM 6.1 Synology now allows multiple shared folders to be used with time machine. This post applies to DSM 6.0 or older.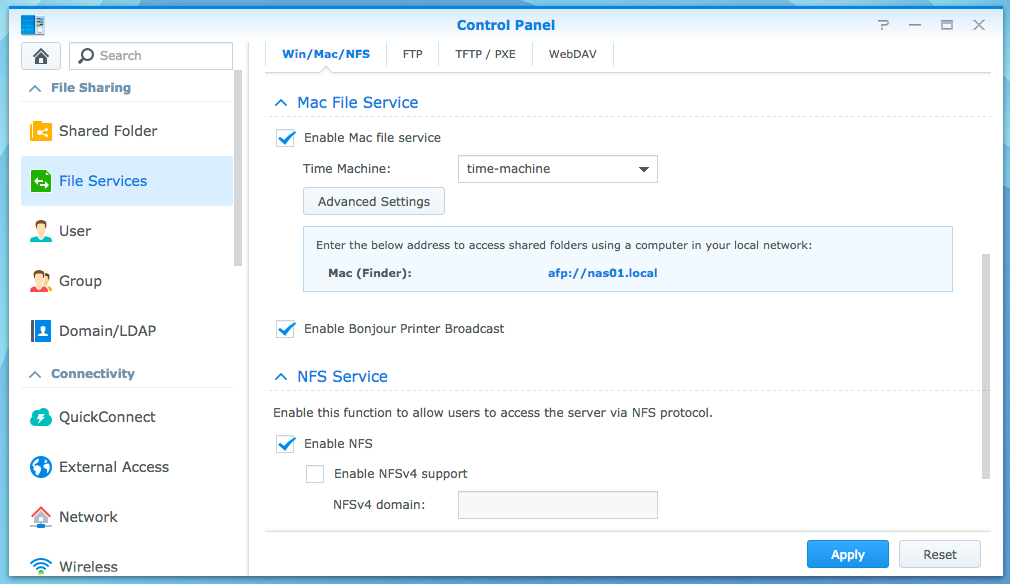 Initial Reaction
At first, you might be thinking the answer to the multiple Macs question is just to create folders on Synology with quotas. There are a couple problems with this approach. First, folders do not support quotas. When you first realize this you might be tempted to create dedicated volumes for each Time Machine backup, but then you run into the second problem being Synology only support a single Time Machine shared folder in Mac File Service. The good news is there is a way!
Better Solution
While folders cannot have quotas, it turns out that users can. As such, you can have a single folder shared by multiple users where each user has a fixed quota. Currently, I have three Macbook Pros that need to be backed up. As such, I created a 2 TB AFS share as well as three separate users based on the names of the Macbook Pros. For each user I assigned a quota based on the importance of the device. Then I simply configured Time Machine on each device to mount via the assigned users.
UPDATE: Since writing this post, Synology has posted a KB with the steps outlined below.
IMPORTANT: User quotas support a maximum of 4TB, if you need more then this approach will not work. In this case, your only option is to create a single large shared folder and not use quotas. Each Mac will have its own sparsebundle so the backups will not conflict, however the change rate of each Mac being backed up to the share dictates the amount of backups per system.
Here are my users: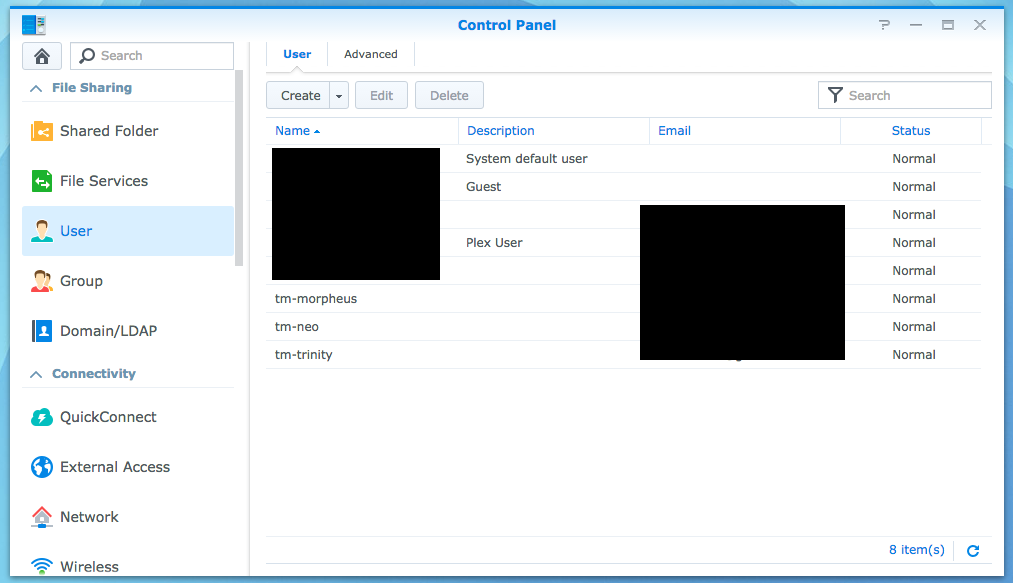 For each user I configured the follow options:
1.) Info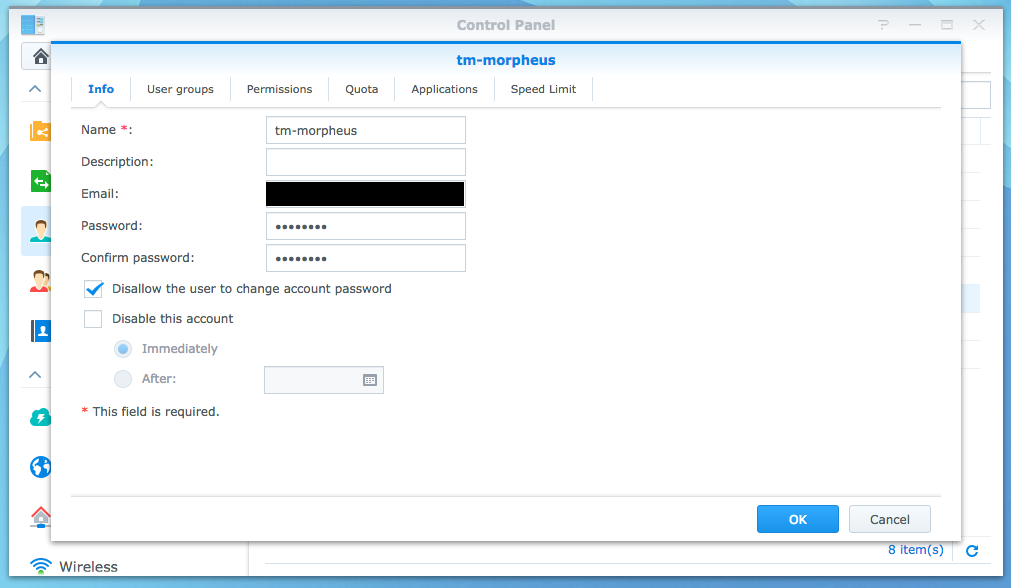 2.) Permissions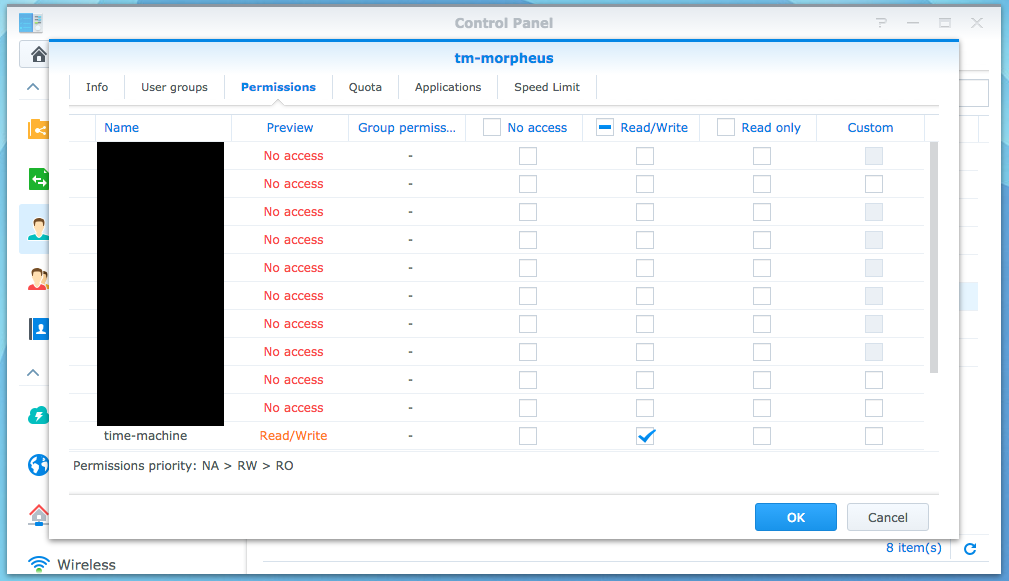 3.) Quota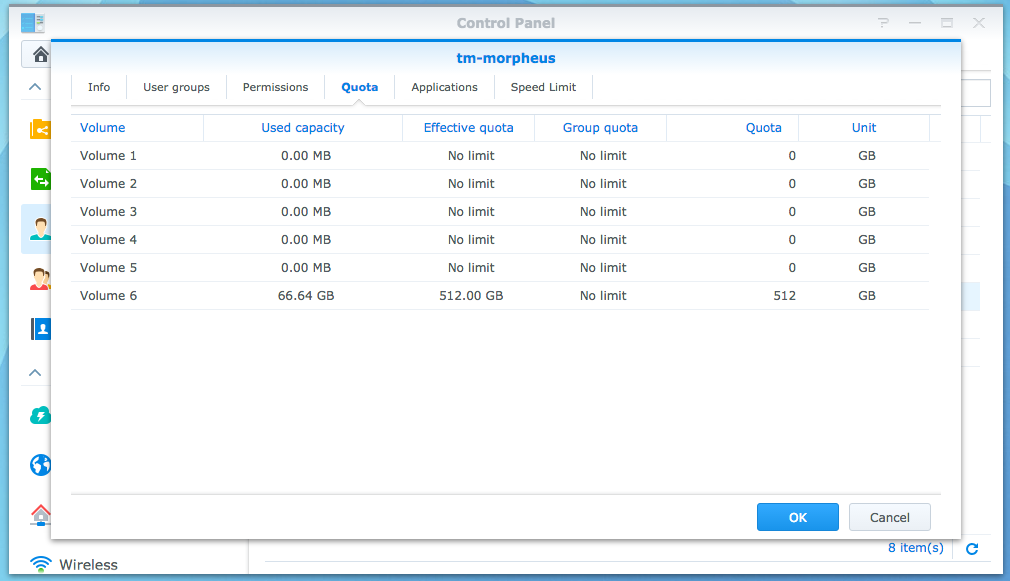 Summary
Understanding how Time Machine works and the options available on Synology makes it possible to have the best backup experience especially when you have multiple systems you wish to backup. To limit space, dedicated users with specified quotas makes it possible to have a single share — which Synology requires for Mac file system + Time Machine — shared by multiple backup clients.
© 2015, Steve Flanders. All rights reserved.