In my home lab, I use Synology for my shared storage solution. In this post, I would like to talk about what Synology devices I use and how I have them configured.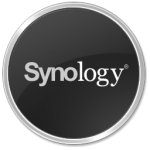 Background
For the last several years, I have been using the 713+ with 2 x 3TB WD Red drives configured with RAID 1. I had been primarily using the Synology for backups as well as a few VM tests cases. As such, I had carved up the storage like the following:
250 GB NFS for random backups
250 GB iSCSI for VMs
250 GB NFS for random stuff
1 TB NFS for time machine backups
Recently, I moved and was lucky enough to get my hands on the 513+ with 5 x 4TB Seagate drives configured with RAID 5 — yup that is over 16TB of additional space! I took the opportunity to redo the Synology configured and while it is still a work in progress, a lot of changes have been made.
New Configuration
On the new 513+ I have configured the following so far:
1 TB NFS for photos using DS photo and music using DS music
1 TB NFS for cloud station backup (more on this in a second)
2 TB NFS for time machine backups (more on this in a future post)
Since the time machine backups were moved to the 513+ this freed up the 1 TB NFS on the 713+. As such, I recreated the 1 TB NFS making it encrypted and using it for cloud station. With an encrypted cloud storage solution available to all of my devices, I have moved all of my data off third-party cloud storage provides I leveraged including Dropbox, Google Drive and Box.net. The benefits of such a migration are plentiful:
I now have access to my data, but no one else: who knows what the third-parties did with the data or what court orders they received to give up data. With all the data breaches in the news, I do not want my data to be part of it.
My data is now encrypted: none of the free cloud storage providers include encryption. There are some workarounds to this, however they are hard to configure and none are really universal across devices. My data is technically only encrypted on the Synology device, however my Macbook Pro and Android phone are both encrypted as well so anywhere I am accessing my data has encryption as well.
I have a configurable recycle bin: Synology provides a recycle bin option where I can decide how long deleted information is kept. Most cloud providers have a fixed limit on recoverable data that can be extended if you pay them.
I have file versions: Synology will keep track of my file changes and keep a configurable number of revisions.
Future
My plan is to get off iPhoto and iTunes as well and use the Synology. Assuming the DS solutions work well — they appear to — and assuming my wife is willing to make the transition, I will configure backups and then have a central way to share photos and music across devices.
I also installed the Synology NFS VAAI VIB on my ESXi hosts and plan to leverage more VMs on the Synology as well. I have not had a chance to restart my ESXi hosts, but then I cannot wait to test performance.
© 2015, Steve Flanders. All rights reserved.